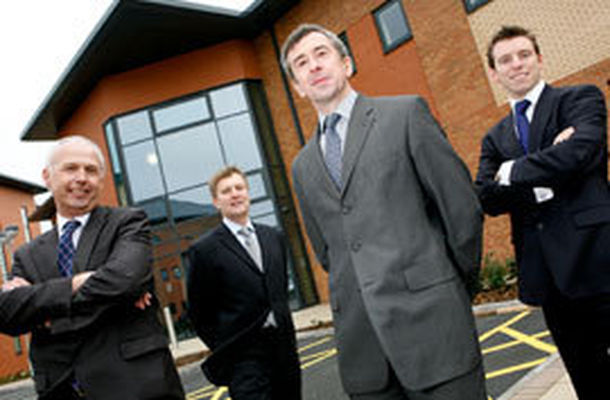 Leading UK bank HSBC has signed a deal to take space at Trinity Court on Wolverhampton Business Park, leaving just 8,000 sq ft (743 sq m) still to let at the sought after office development.
Trinity Court offers 50,000 sq ft (4,645 sq m) of contemporary Grade A office space across three buildings. HSBC will take 12,000 sq ft (1,115 sq m) in Building Three for its latest purpose built commercial banking centre, as part of a roll out in key UK enterprise zones, which will provide dedicated business meeting and conference facilities and direct access to experienced commercial managers.
Jonathan Rogers of Broadlands Wolverhampton Limited, said: "The success of Trinity Court has been overwhelming and is reflected in the calibre of occupier that Wolverhampton Business Park has already secured."
Ralph Jones, also of Broadlands Wolverhampton Limited, said: "Wolverhampton has transformed over the past few years into an established office location that can compete with other regional and national commercial centres. There is a growing demand for high quality office space in the city, an expectation which has in part been brought about by the quality of product developed to date at Wolverhampton Business Park, as well as high profile business occupiers like HSBC who are choosing to relocate in the area."
Chris Buck, Head of HSBC Commercial Banking, Wolverhampton, said: "HSBC was attracted to Wolverhampton Business Park namely because it provides a professional surrounding and an alternative to traditional High Street locations. We require a modern working environment with sufficient facilities to attract and retain a high quality workforce. With its landscaped green areas, easy accessibility and supporting business and leisure facilities, Trinity Court met, and in many areas exceeded, our expectations on all counts."
The financial giant will join UK mortgage lending specialist edeus, whose £8 million headquarters are located in Building One of Trinity Court.
Set in a prime location just off Junction 2 of the M54 Motorway, Wolverhampton Business Park boasts an impressive range of onsite facilities including Esporta Fitness and Health Club, with beauty salon, gym, crèche and indoor and outdoor swimming pools, and a Whitbread Pub & Travel Inn.
Wolverhampton's established transport infrastructure has been enhanced by the opening of the M6 Toll road and it is set to be improved further by the proposal for a new parkway rail terminal to the north of Junction 2 of the M54 Motorway, which will create better links to London, Birmingham and the North West.
There are a further 11 acres to develop at the Park and larger occupiers can be readily accommodated with specific packages tailored to suit individual requirements.
Wolverhampton Business Park is being developed by Broadlands Wolverhampton Limited, a joint venture partnership between B&R Properties and Peveril Securities and project managed by TDP.
GVA Grimley and Bulleys are joint agents for the scheme.