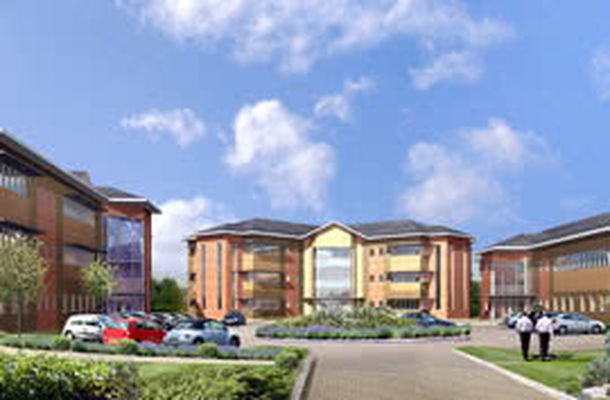 Trinity Court visual
Developers Broadlands Wolverhampton Ltd has confirmed that planning permission has been granted by Wolverhampton City Planners for Trinity Court, the next 50,000 sq ft (4,645 sq m) speculative phase of office development at Wolverhampton Business Park.
Trinity Court will comprise 50,000 sq ft (4,645 sq m) of office accommodation spread across three buildings. The first building will comprise 20,000 sq ft (1,858 sq m) over three-storeys, the second - 18,000 sq ft (1,672 sq m) over three-storeys, while the third building will comprise 12,000 sq ft (1,115 sq m) over two-storeys. With a high quality specification, excellent car parking provision of 196 on site spaces, immediate motorway access and a range of on site amenities, Trinity Court is set to appeal to businesses looking for a modern, competitive professional base.
Jonathan Rogers of Broadlands Wolverhampton Limited said: "The pace of development at Wolverhampton Business Park has been extremely encouraging. A detailed planning application for this sixth phase of the Park was submitted as recently as mid-July and we are now looking to start on site in mid October with completion scheduled for August 2007."
This investment is testament to the success that Wolverhampton Business Park has experienced over the past 5 years. The first two speculative office phases at Venture and Charter Court, both experienced strong occupier interest during construction, with a significant proportion of the space committed prior to completion. Demand for more accommodation and further development has been so high that the planning application for Trinity Court was brought forward in order to coincide with market growth and requirements.
Andy Venables of GVA Grimley, joint agents on the Park with Bulleys, added: "Quality of life for employers and employees alike is an important consideration and one that Broadlands Wolverhampton Ltd has taken seriously. Wolverhampton Business Park gives the very best that forward thinking companies look for in the modern marketplace including the existing onsite amenities such as Esporta Health and Fitness Club and Whitbread Travel Inn and Restaurant."
Wolverhampton Business Park is already home to Alfred McAlpine, Persimmon Homes, Bromford Housing Group, KGJ Insurance Group, Cooperative Insurance Society (CIS) and Games Media Group. Construction of the new Regional Control Centre for the West Midlands Fire and Rescue Service has also recently started and is due for completion in December 2007.
Wolverhampton Business Park is being developed by Broadlands Wolverhampton Limited, a joint venture partnership between B&R Properties and Peveril Securities. There is a further 15 acres to develop at the Park and larger occupiers can be readily accommodated with specific packages tailored to suit individual requirements.