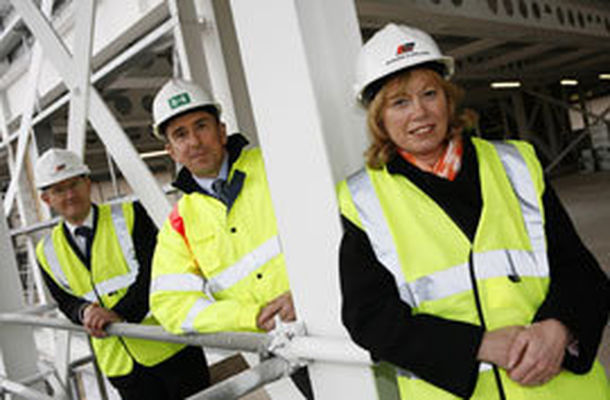 From left to right Peter Dartford, Staffordshire Fire and Rescue, Jonathan Rogers, B&R Properties, Angela Smith MP
Fire Minister Angela Smith MP visited Wolverhampton Business Park this week to view the construction progress of the new Regional Control Centre for the Fire and Rescue Service.
The Centre is one of nine across the Country that will form a brand new national network. Developer Broadlands Wolverhampton Ltd, a joint venture partnership between B & R Properties and Peveril Securities, started work on the state of the art building in July with contractor Bowmer & Kirkland scheduling completion for December 2007.
Jonathan Rogers of Broadlands Wolverhampton Ltd said: "It is an exciting step forward in the Government's national fire and rescue modernisation agenda to see the building now making its mark on the landscape in such a short timescale. The vision of this significant investment for the Park is fast becoming a reality with the build programme efficiently running to schedule and we are delighted with the fast progress made to date.
"The Regional Control Centre is the fifth plot to be developed at the Park and will benefit from the combination of a well maintained environment with on site amenities and easy access to the Midlands comprehensive motorway network. This accessibility and quality working environment have been recognised by all those that have taken occupation here and are the redeeming features of what has become a very successful business location."
The 2,880 sq m (31,000 sq ft) brand new three storey Control Centre has been designed to create a pleasant, safe and secure environment for staff, with dedicated car parking spaces and a security reception. The Centre is expected to handle over 100,000 emergency calls a year.
Peter Dartford, Deputy Chief Fire Officer, Staffordshire Fire and Rescue and Project Director of the Regional Fire Control Project said: "We are pleased that the development is progressing on schedule and are looking forward for the Regional Fire Control Centre to be open and delivering benefits across the board."
Wolverhampton Business Park is already home to Alfred McAlpine, Persimmon Homes, Bromford Housing Group, Edeus, KGJ Insurance Group, Cooperative Insurance Society (CIS) and Games Media together with an Esporta Health and Fitness Club and Whitbread Travel Inn and Restaurant.
The Park is located adjacent to Junction 2 of the M54, on the A449 Stafford Road and is close to the new M6 toll road. There is a further 15 acres to develop at the Park and larger occupiers can be readily accommodated with specific packages tailored to suit individual requirements.
Joint agents for Wolverhampton Business Park are GVA Grimley and Bulleys.