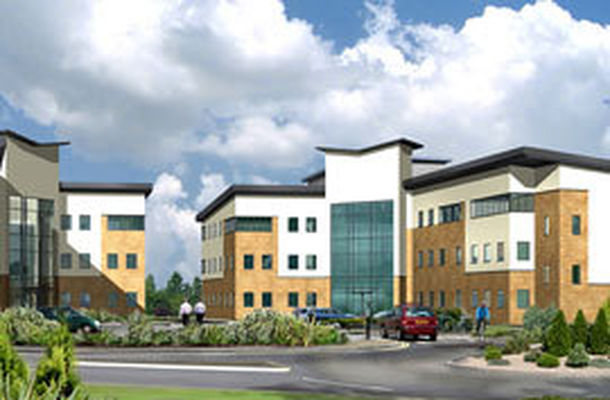 The next phase of the popular office development at Wolverhampton Business Park has received planning permission for 48,000 sq ft (4,460 sq m) of offices on Plot 9, to be known as Exchange Court.
In light of the high levels of pre-let occupancy secured across the first phases of the development - including the recent lettings to The Royal Bank of Scotland and HSBC - developer Broadlands Wolverhampton Ltd has brought forward the next phase plans. The development aims to meet the increasing demand for environmentally responsible, high specification office accommodation in the regional marketplace.
Jonathan Rogers of developer Broadlands Wolverhampton Ltd, said: "The significant investment and interest that we have already seen at the Park has encouraged us to move quickly with the submission of plans for the next development phase. The local market continues to strengthen as regional and national businesses recognise that Wolverhampton is fast becoming a major office location within the West Midlands."
Ralph Jones, of developer Broadlands Wolverhampton Ltd, added: "The Park continues to attract high-level investment from quality occupiers, which is testament to the continual success of the development. Exchange Court will be the fifth phase of offices to be developed at Wolverhampton Business Park and we believe that the sustained interest in high specification accommodation in the area strengthens the argument for more of the same."
Exchange Court will comprise 48,000 sq ft (4,460 sq m) of Grade A office accommodation across two identical buildings. The L-shaped buildings will each comprise 24,000 sq ft (2230 sq m) over three-storeys with floorplates of 8,000 sq ft (743 sq m).
The Business Park is already home to a variety of well known businesses and amenities including Alfred McAlpine, Persimmon Homes, Bromford Housing Group, edeus, KGJ Insurance Group, Cooperative Insurance Society (CIS), Esporta Health and Fitness Club and Whitbread Travel Inn and Restaurant.
The level and standard of occupancy, together with a high quality specification, competitive green credentials, excellent parking levels and instant motorway access, ensures Exchange Court is placed to attract further businesses looking for a premium, environmentally responsible and professional base.
Joint agents Noel Muscutt of Bulleys and Andrew Venables of GVA Grimley commented on the continued expansion and success of the Park: "The take up of office space at Wolverhampton Business Park has been exceptional to date, with a wide range of professional service businesses and amenities already occupying the first phase developments. Following the success of Trinity Court, completed in October 2007, we expect to see a high level of interest and a number of early lets from both local businesses looking to expand and the national market."
The Park is located adjacent to Junction 2 of the M54, on the A449 Stafford Road and is close to the new M6 toll road. There is a further seven acres to develop at the Park and larger occupiers can be readily accommodated with specific packages tailored to suit individual requirements.
Wolverhampton Business Park is being delivered by developer Broadlands Wolverhampton Ltd, which is a joint venture partnership between B & R Properties and Peveril Securities. Joint agents for Wolverhampton Business Park are GVA Grimley and Bulleys. Project Managed by TDP.