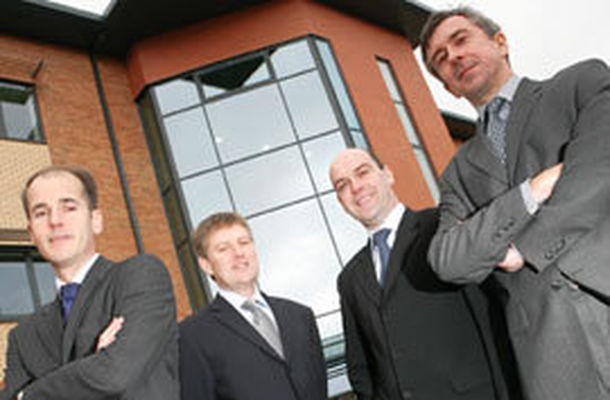 Wolverhampton Business Park has secured a deal with leading global bank The Royal Bank of Scotland (RBS), to take space in Trinity Court, leaving just 8,000 sq ft (743 sq m) of letting space remaining at the popular office development.
RBS will be occupying 10,000 sq ft (929 sq m) in Building Two of Trinity Court, part of a total 50,000 sq ft (4,645 sq m) of contemporary Grade A office space on offer across three buildings. The move supports the bank's growth strategy across the Black Country, and sees the new premises housing the relationship banking business who operate under both the RBS and NatWest brands, the bank's asset finance provider Lombard together with representatives from the bank's specialist invoice finance and international trade business divisions.
The remaining 8,000 sq ft of available space is in Building Two of Trinity Court and comes with a generous 31 car parking spaces.
Jonathan Rogers of Broadlands Wolverhampton Limited, said: "The interest in Trinity Court has been tremendous. The space has proved extremely sought after with the completion of the fourth phase of office development attracting a wide variety of high profile businesses.
"We are soon to submit the planning application for the next phase of 48,000 sq ft and we are confident that momentum created by Trinity Court will drive the Business Park forward and ensure the Park continues to attract high levels of enquiries."
Ralph Jones of Broadlands Wolverhampton Limited, added: "Wolverhampton has benefited from considerable investment over the last few years and is now highly regarded as an established office location. The quality of the businesses relocating to the area demonstrates that it is capable of competing with other regional and national commercial centers. The city has seen a rising demand for high quality office space, an expectation which has in part been brought about by the quality of product developed to date at Wolverhampton Business Park."
Gary Crowe, Director of Commercial Banking for RBS in Wolverhampton and the Black Country, said: "Trinity Court will provide RBS with the modern and professional working environment needed to accommodate our existing staff levels, together with conferencing facilities and room for additional expansion.
"In today's business climate it is increasingly important to attract and retain a high quality workforce. We believe that Wolverhampton Business Park's supporting business and leisure facilities, landscaped environment and easy access to the wider region will help us to achieve this and contribute to the overall growth and success of the business."
RBS will join a number of professional service organisations already located at the Business Park including UK mortgage lending specialist edeus, KGJ Insurance Group and Cooperative Insurance Society (CIS).
Set in a prime location just off Junction 2 of the M54 Motorway, Wolverhampton Business Park boasts an array of complimentary onsite facilities; including Esporta Fitness and Health Club, with beauty salon, gym, crèche and indoor and outdoor swimming pools, and a Whitbread Pub & Travel Inn with meeting room facilities.
Wolverhampton's established transport infrastructure has been enhanced by the opening of the M6 Toll road and it is set to be improved further by the proposal for a new parkway rail terminal to the north of Junction 2 of the M54 Motorway, which will create better links to London, Birmingham and the North West.
There are a further 11 acres to develop at the Park and larger occupiers can be readily accommodated with specific packages tailored to suit individual requirements.
Wolverhampton Business Park is being developed by Broadlands Wolverhampton Limited, a joint venture partnership between B&R Properties and Peveril Securities, and project managed by TDP.