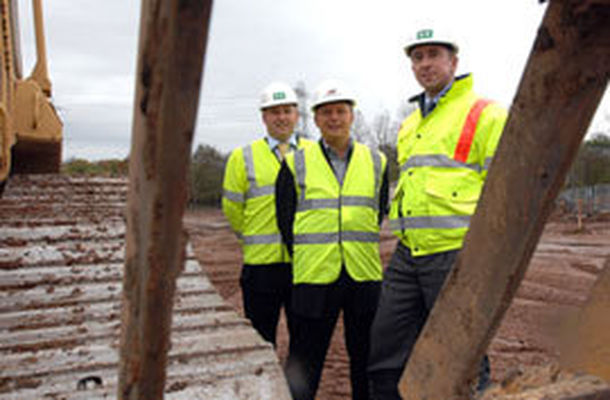 A major new player in the UK mortgage lending sector has confirmed Wolverhampton Business Park as its UK headquarters.
Developer Broadlands Wolverhampton Ltd has confirmed that edeus has taken Building One at Trinity Court in a 20,000 sq ft (1,858 sq m) pre-let agreement. Bowmer & Kirkland, one of the UK's most successful construction groups, start on site this week and will complete the £8m scheme by summer 2007.
Until then, the specialist mortgage lending business has taken a short-term lease of 5,400 sq ft (500 sq m) at Charter Court, also located on the Park.
Michael Bolton, CEO of edeus, said: "We're establishing a home at Wolverhampton Business Park for edeus. The Midlands has been hit hard by the job losses at Rover and our goal is to have as many Midlanders on the edeus team as possible. Ours is a good news story for Wolverhampton, creating hundreds of new jobs and providing a welcome boost to the local community. We've already hired a large number of personnel, so it won't be long before Wolverhampton sees the benefit of our investment."
edeus is set to become a major player in the UK specialist mortgage lending industry. The Wolverhampton operation is an underwriting, administration and broker support centre and aims to create in excess of 250 jobs and hundreds more indirectly over the next five years. 10,000 brokers have already signed up to edeus mortgages.
Ralph Jones of Broadlands Wolverhampton Limited, said: "We are delighted that we have attracted another key player in the fast growing financial services sector and one that holds so much promise for the region's economy. edeus' investment clearly reflects the locational advantages of Wolverhampton Business Park and the high quality environment and office accommodation it offers to 21st century businesses. More than forty per cent of Trinity Court has been let at a very early stage in the development process with the remaining space currently under offer and we are proud that edeus is keen to make its home here, even launching its new operation from temporary premises at Charter Court."
Trinity Court will comprise 50,000 sq ft (4,645 sq m) office accommodation spread across three buildings. edeus has taken the central building, situated between an 18,000 sq ft (1,672 sq m) three storey building and a 12,000 sq ft (1,114 sq m) two storey building. With a high quality specification, excellent car parking provision of 196 onsite spaces, immediate motorway access and a range of on site amenities, Trinity Court is set to appeal to businesses looking for a modern, competitive professional base.
Mark Smith, Director of Operational Support at edeus, added: "The continuing success of Wolverhampton Business Park and the calibre of company being attracted to the location made it inevitable that we too should consider a move here. Without a doubt, this investment is the best location decision for the future of our business, we are situated at Junction 2 of the M54, close to the new M6 toll road and Trinity Court will provide the spacious accommodation required for our growing team."
Wolverhampton Business Park is already home to Alfred McAlpine, Persimmon Homes, Bromford Housing Group, KGJ Insurance Group, Cooperative Insurance Society (CIS) and Games Media Group. Construction of the new Regional Control Centre for the West Midlands Fire and Rescue Service has also recently started and is due for completion in December 2007.
Rod Spiby from Bulleys, joint agents on the Park with GVA Grimley, concluded: "The arrival of edeus is another successful stage in the growth of Wolverhampton Business Park and a major acknowledgement of the outstanding features that it offers in today's marketplace. The fact that planning for Trinity Court was submitted well ahead of schedule is testament to the continued demand for premium accommodation at this location."
Wolverhampton Business Park is being developed by Broadlands Wolverhampton Limited, a joint venture partnership between B&R Properties and Peveril Securities. There is a further 11 acres to develop at the Park and larger occupiers can be readily accommodated with specific packages tailored to suit individual requirements.