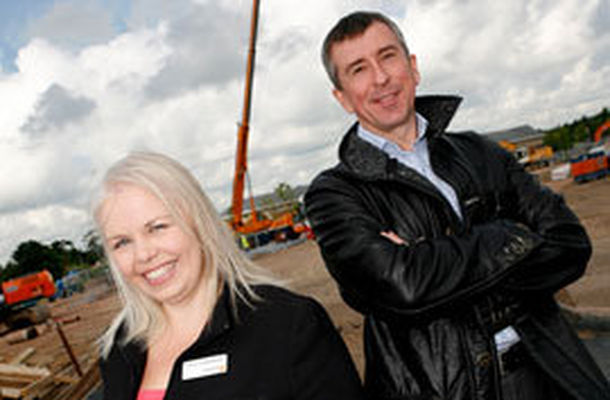 Just weeks after planning permission for Exchange Court, the next phase of office development at Wolverhampton Business Park was announced, leading provider and developer of affordable housing throughout Central England, Bromford Group, has signed a pre-sale deal for a building of 24,000 sq ft (2,230 sq m) on a freehold basis.
Work to the sustainable three-storey building, with floorplates of 8,000 sq ft (743 sq m), will commence this month with Bromford taking occupancy following completion next summer.
Bromford Group, which now owns 25,000 homes and operates in 58 local authorities, has had a presence at the Park for over four years, with its existing Wolverhampton Business Park office extending to 15,000 sq ft (1,394 sq m) within the first phase of the development, Venture Court. The move into Exchange Court will build on Bromford's success in the city to date, and will involve relocation from Shaw Park business village in Bushbury, Wolverhampton, consolidating the existing regional offices. The relocation and merger of the offices demonstrates Bromford's commitment to providing the very best services for its business partners.
Tracy Cadwallader, facilities manager at Bromford Group, said: "Exchange Court fitted the bill perfectly. The opportunity to build upon our existing presence at the Park was an ideal scenario, not only for us but also our customers who will benefit from the excellent customer service to be offered by the consolidated team.
"Based on the success of the current office at Venture Court, which already offers modern office space and easy access to our customers, it made perfect commercial sense to satisfy our additional office requirement at Wolverhampton Business Park.
"Sustainability is an increasingly important factor for us when considering office premises, so the fact that Exchange Court will achieve a BREEAM 'very good' rating, encompassing a number of green credentials made it a very attractive offer."
With its proximity to major transport links and a wealth of amenities, Wolverhampton has fast become a hub for commercial activity in the Midlands. The growth of the region has been strengthened by the success of Wolverhampton Business Park, which is already home to a host of national and international names including HSBC, The Royal Bank of Scotland and Alfred McAlpine, enhancing its reputation as a business destination of the highest quality.
Ralph Jones, of developer Broadlands Wolverhampton Ltd, said: "The latest deal with Bromford signifies the continued demand that the Park is seeing from good quality occupiers who are looking for environmentally responsible, high specification and professional office accommodation in the region."
Jonathan Rogers of developer Broadlands Wolverhampton Ltd, added: "Bromford's decision to consolidate its operation at the Business Park is not only testament to the commercial strength of the area, with its direct access to a wide customer base, but also to the quality of the facilities and amenities on offer here. Despite the current competitive market and climate, we continue to see a high level of interest in the opportunities available at the Park, from both local and regional occupiers looking to expand, which is reflected by the rate of development on site."
The Park is located adjacent to Junction 2 of the M54, on the A449 Stafford Road and is close to the new M6 toll road. Larger occupiers can be readily accommodated with specific packages tailored to suit individual requirements on a design and build basis.
Wolverhampton Business Park is being delivered by developer Broadlands Wolverhampton Ltd, which is a joint venture partnership between B & R Properties and Peveril Securities. Joint agents for Wolverhampton Business Park are GVA Grimley and Bulleys. Project Managed by TDP