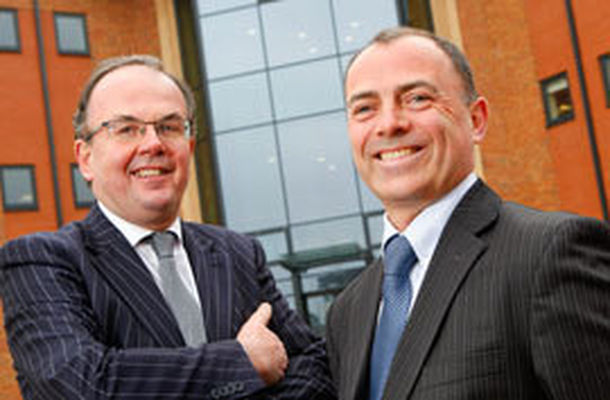 Developer Broadlands Wolverhampton Limited, a joint venture between Peveril Securities Limited and B&R Properties Limited, has announced that international information technology services company, Atos Origin, has signed a deal to take 20,000 sq ft (1,858 sq m) of grade A office space at Wolverhampton Business Park.
The company will take occupation of One Trinity Court, a self contained, three storey building, from mid April on a 15 year lease.
180 employees from Atos Origin will work from the new office, including the team running and supporting the recently launched business fuelcard – fuelGenie. It is the first ever business fuel card exclusively for use at multiple supermarket forecourts, making it easier for businesses to pay less for fuel.
Other departments working from the same building include the Finance and Human Resources teams who provide support to the 6,000 employees working across the UK delivering IT services to private and public sector organisations.
Trinity Court is an established development on Wolverhampton Business Park, comprising 50,000 sq ft (4,645 sq m) of office accommodation across three buildings. Atos Origin will join other blue chip tenants at Trinity Court, Royal Bank of Scotland and HSBC.
Geraint Williams, UK Real Estate Director at Atos Origin said: "We are committed to creating a great and a sustainable place to work for our employees and are delighted with the excellent facilities provided at Wolverhampton Business Park. To support our environmental charter the building has excellent recycling facilities and in addition to car parking spaces, there is secure cycle parking and shower facilities to encourage our employees to cycle to work."
Steve Boyes, Wolverhampton City Council's Director for Regeneration and Environment welcomed the news of another company locating to the city and added it was another example of the growing confidence in Wolverhampton as a place for new and existing businesses to thrive.
Ralph Jones, Director of both Broadlands Wolverhampton Ltd and Peveril Securities Ltd, believes that hi-tech companies can benefit from the combination of excellent access to the motorway network with good quality, high specification buildings at the Park. He said: "The Park combines the advantages of a Parkland setting with proximity to local services, excellent car parking ratio and the business connections of a major conurbation.
"With the latest IT infrastructure in place, One Trinity Court offers Atos Origin a readymade technology solution with a dedicated communication room and capacity for an external generator if required. The building is also thermally modelled to achieve Part L building regulations and is glazed with acoustically enhanced glazing to reduce external noise.
"Atos Origin's move is significant for the Park. The company's decision to relocate to Wolverhampton Business Park reflects the benefits that discerning occupiers can reap from being based at a strategically located site with a wealth of high specification, sustainable office space and amenities on the doorstep. Such benefits have helped the Park continue to perform well and set itself apart from competition throughout the difficult economic conditions."
The Park is located adjacent to Junction 2 of the M54, on the A449 Stafford Road and is close to the new M6 toll road.
The latest phase of the Park, Exchange Court has detailed planning consent for a 24,000 sq ft building, which could be delivered on a fast track basis. Larger occupiers can be readily accommodated with specific packages tailored to suit individual requirements on a design and build basis.
The next phase of development on the Park is already in the pipeline with proposals for a brand new children's day care facility at the entrance to the scheme. A planning application has been submitted for the nursery and a decision is expected from Wolverhampton City Council by the middle of June. This will add further amenity for businesses choosing to locate on the Park.
Wolverhampton Business Park is being delivered by developer Broadlands Wolverhampton Ltd, which is a joint venture partnership between B &R Properties and Peveril Securities. Joint agents for Wolverhampton Business Park are GVA Grimley and Bulleys. The scheme is Project Managed by TDP.