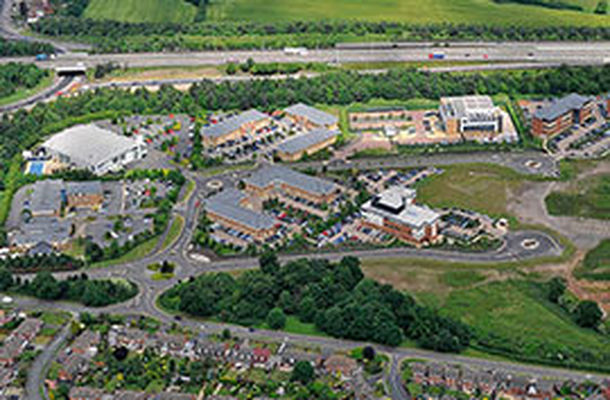 Wolverhampton Business Park has been granted permission for a Local Development Order (LDO), creating a greatly simplified planning process for the potential development of up to 168,445 sq ft (15,649 sq m ) of new office buildings on the site.
The LDO - the first of its kind to be delivered by Wolverhampton Council - applies to the undeveloped 7.5 acre (3 hectare) balance of the scheme.
Under the LDO, following receipt of outline planning consent the development does not need to obtain any further planning approvals before construction can begin, negating the need for the developer to submit more detailed plans for features such as building layout, scale, appearance or landscaping. This streamlined planning process can bring forward delivery of a development by six months or more.
A part of the Black Country Enterprise Zone, Wolverhampton Business Park is a 30 acre site adjacent to Junction 2 of the M54 motorway, with a masterplan allowing for the development of up to 450,000 sq ft of Grade A business accommodation.
Wolverhampton Business Park is being delivered by developer Broadlands Wolverhampton Ltd, a joint venture partnership between B & R Properties and Peveril Securities.
Jonathan Rogers, Broadlands Wolverhampton Ltd, said: "Wolverhampton Business Park has been a very successful venture, with its great location, access to a broad range of amenities and high-quality on-site accommodation for a number of leading corporate occupiers.
"The grant of this LDO, combined with our status as part of the Enterprise Zone, means that Wolverhampton Business Park can now offer probably the most streamlined development process in the Midlands. With planning consent already secured for new buildings of around 170,000 sq ft, we are ready to put spades into the ground and begin development as soon as we have secured a pre-let.
"The LDO expires in May 2021, so we have plenty of time to capitalise on this opportunity and continue to produce high quality, Grade A office accommodation at this highly sought-after business location."
With its proximity to the UK transport network and wealth of amenities, Wolverhampton Business Park has fast become a hub for commercial activity in the region, with a host of national and international companies including HSBC, The Royal Bank of Scotland and Bromford Group endorsing the park's reputation as a business development of the highest quality.
Joint agents for Wolverhampton Business Park are GVA and Bulleys, with the site Project Managed by TDP (Property Development) Ltd.