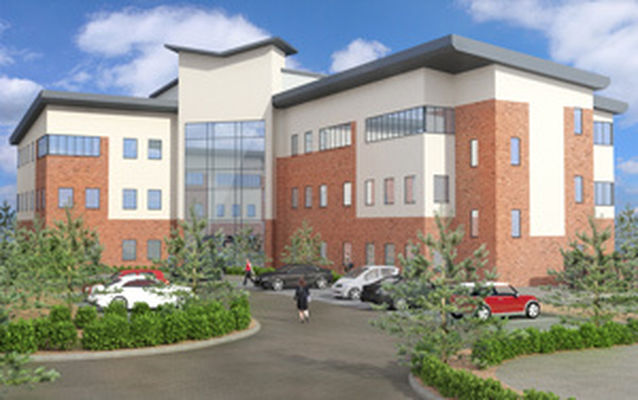 Developers Broadlands Wolverhampton Ltd, the joint venture between B&R Properties and Peveril Securities, are adding a further 24,295 sq ft (2,257 sq m) of high spec office space to Wolverhampton Business Park. Construction of a new three storey Grade A building is already underway.
Charter Court Financial Services (CCFS), currently occupy 22,816 sq ft (2,120 sq m) at the park and have pre-let the new building to accommodate its growing workforce.
Occupiers at the 30 acre site, which is situated to the north of Wolverhampton, benefit from a strategic location adjacent to Junction 2 of the M54 and first class facilities. A fitness and wellbeing centre, hotel, pub and restaurant and a children's nursery all fall within the boundaries of the park. Conference, training and meeting facilities are also available to complete the offering.
CCFS is a local success story. It is proud of its roots in Wolverhampton and its links with the local community which has provided the majority of its workforce.
Ian Lonergan, CEO at CCFS, said: "CCFS began life here at Wolverhampton Business Park in 2008 with just 28 employees. As the business has grown-we now have a staff of over 500 people-we have been able to take on more space and maintain close relationships with the local community. A new build on this site, designed to meet our needs, suits our plans."
Jonathan Rogers, Director at Broadlands Wolverhampton Ltd, added: "This three storey Grade A office building, will add to the impressive scale of quality office development delivered on site. We have an excellent relationship with CCFS and were pleased to be able to provide the standard of accommodation they need.
Our joint agents GVA and Bulleys will shortly be marketing up to 12,050 sq ft (1,119 sq m) within an existing building elsewhere on Wolverhampton Business Park and expect to receive strong interest from occupiers wishing to join our other tenants such as Handelsbanken, HSBC, Persimmon, Bromford Group and Speller Metcalfe."
Ralph Jones, Director at Peveril Securities, said: "We have worked hard over the years to ensure delivery of a high quality environment at Wolverhampton Business Park and this new building will undoubtedly complement the existing buildings that have been developed."
CCFS plans to move into the new building, which will house 250 staff, early in 2018. Existing leases that CCFS holds on other buildings on the park will also continue.
Ends
Editors note:
Wolverhampton Business Park
Wolverhampton Business Park is a 30 acre nationally important 450,000 sq ft (41,805 sq m) , strategically located development adjacent to Junction 2 of the M54 3.5 miles to the north of Wolverhampton with excellent onsite amenities and Enterprise Zone status. Existing office occupiers include: Handelsbanken, HSBC, Persimmon, Charter Court Financial Services, Bromford Group and Speller Metcalfe.
On site facilities include: Nuffield Fitness and Wellbeing Centre, Premier Inn Hotel, Beefeater Pub and Restaurant, ABC Children's Nursery together with high specification, conference, training, meeting facilities and café.
Joint Venture Developers: B&R Properties and Peveril Securities